Full-Day Salmon Fishing
Catch your Copper River Salmon
9 hrs | $350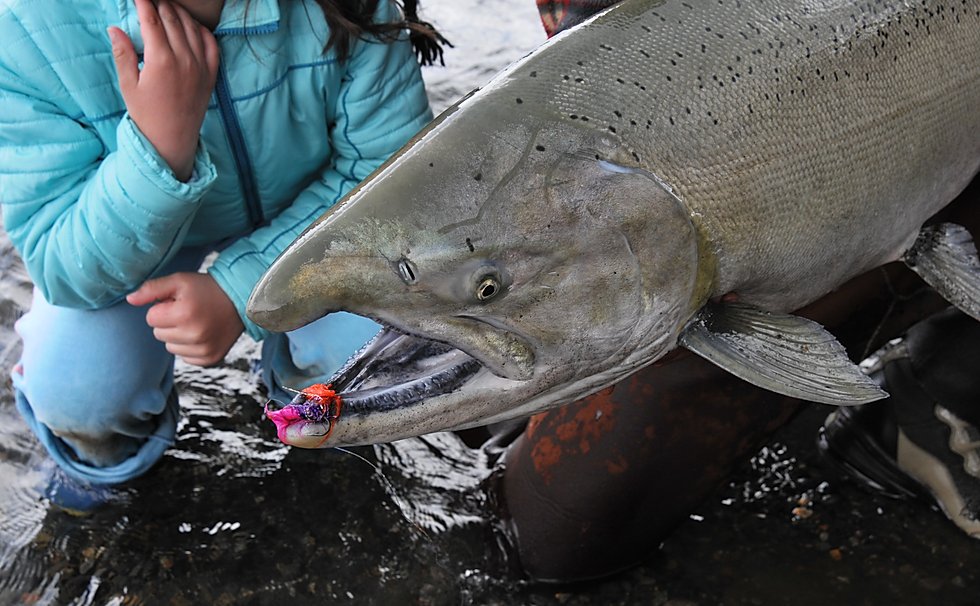 Trip Details
Full day fishing trips by river raft runs 8-10 hours long. All the fishing takes place standing on the shore. We will float from fishing hole to fishing hole working our way down the river. Giant Chinook Salmon are not the only wildlife you might see along the way, its possible to catch a glimpse of moose, bears, lynx, sheep and bald eagles. We start early to ensure you can experience the best fishing conditions possible. Standing at a productive fishing hole when the light changes and the sun warms the surface of the water triggers the salmon to move and increases your chances of "hook-ups". We are happy to offer you a custom trip with a later departure time if necessary.
What's Included
Full day sport-fishing charters include your river rafting tour (launch point and river selection depends on water conditions, time of your trip and ADF&G regulations), shuttle service, waders, PFD, tackle, ancillary gear, large lunch (if desired) & processing of your catch. We provide you with the most technique specific fishing equipment available for side-drifting fast rivers.
What's Not Included
Alaska Sportfishing License, Fed-Ex Fish Shipping (can be arranged for an additional charge)
What to Bring
Photo ID
Fishing License
Sunglasses
Hat
Full Day Salmon Fishing
9 hrs | $350
Mon, Tue, Wed, Thu, Fri, Sat, Sun
Location & Contact Details
Tel: 1-907-822-5822Email: info@klutinariver.comSalmon Grove Campground & Fishing Charters, 100 Old Richardson Highway, Copper Center, AK 99573, USACancellation Policy: To cancel or change the date of your trip, please contact us with as much notice as possible. We require a 2 day cancellation notice by email or telephone for a full refund.