Salmon Grove Campground & Fishing Charters offers world-class guided sport-fishing trips on the Klutina River, Gulkana River, Tonsina River, and Copper River for trophy-sized salmon. We are located on the Klutina River in Copper Center, Alaska.
Copper River Salmon Charters
We guide professional-quality fly-fishing trips and Copper River salmon charters on some of the best Alaska fishing rivers. Fish the Tonsina River, Klutina River, Gulkana River and Copper River with one of our top-level fishing guides. Grove's is one of the most experienced fishing guide services in the area. We are located in the heart of Alaska's Copper River Basin. The Upper Copper River region of Alaska is well-known for its massive run of wild Pacific salmon. The world-famous salmon of this region are prized for their firm texture and high-fat content. Escape the crowds and fish for the most coveted stock of wild salmon in the state of Alaska. We target king (Chinook) salmon, red (sockeye) salmon, silver (coho) salmon, native rainbow trout, arctic greyling and dolly varden. Our fishing season is May-September.
WELCOME TO SALMON GROVE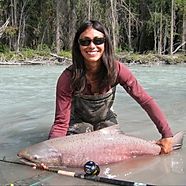 Hello and thank you for visiting the website! Our goal is to share the excitement of salmon fishing in Alaska with you! Our mission at the campground is to open river access to all, improve the facilities and to make this place your destination salmon fishing base camp!
See you on the river, Stephanie & Jeremy
Salmon Grove campground is the perfect place for the self-guided angler to experience some of the best salmon fishing in Alaska. Avid and beginner fisherman alike will enjoy bank-fishing for Copper River red salmon right from the campground. During red salmon season when the Klutina River fish are running strong it is common for everyone in camp to catch a limit of reds. We are located on a river trail that leads downstream to the Copper River. There are a number of prime fishing holes along the way. The walk-in fishing for red salmon from the campgrounds will keep any serious sport-fisherman busy. We have large freezers, fillet tables and water available for you to process your fish. Our mission is to make it easy for everyone to access the river and provide a clean place for you to care for your catch.
Guided Fly-Fishing $125
1/2 Day Fishing $200
Full Day Fishing $300
Overnight Charters $775
Join us for the real deal Alaskan fishing trip. Our guides specialize in freshwater salmon fishing on the tributaries to the Copper River.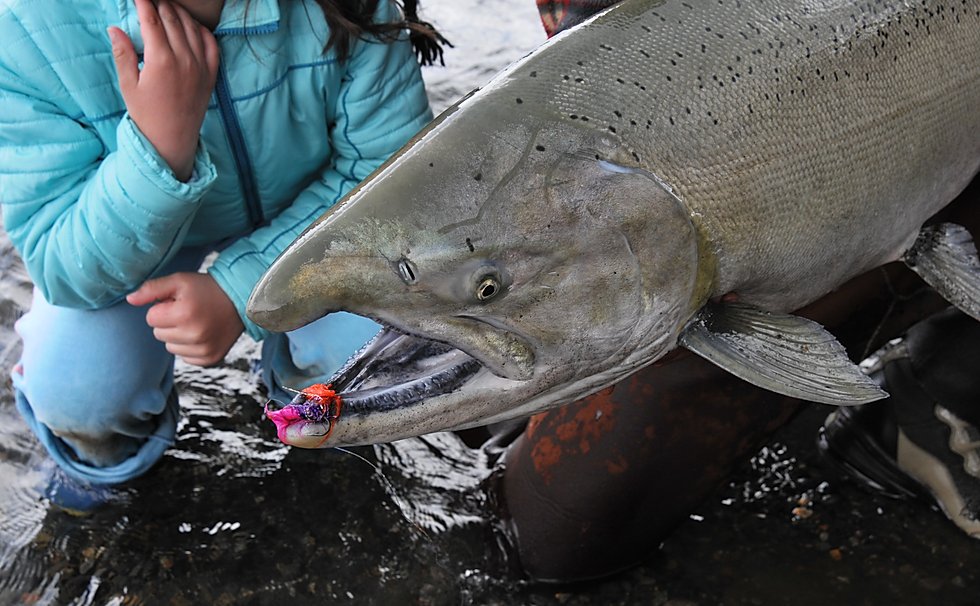 Full Day Salmon Fishing
9 hr | $300
Mon, Tue, Wed, Thu, Fri, Sat, Sun
Fish under the midnight sun for trophy-sized Alaskan salmon on the Klutina River, Tonsina River, Gulkana River and Copper River. We offer a wide variety of guided tours, salmon charters, whitewater river rafting, and overnight trips on some of the best salmon fishing rivers in Alaska. We are available to accommodate private parties, and fishing charters, beyond what you see listed on our fishing trip page. If you have any question or would like arrange a custom departure time call (907) 822-5822​
Where we fish
Tonsina River
Klutina River
Gulkana River
Copper River
In addition to providing great salmon fishing the local rivers also offer anglers prime waters to fish for native rainbow trout, dolly varden, arctic greyling and whitefish. The Copper River region of Alaska offers excellent fly fishing opportunities in both lakes and rivers. King salmon season is open June 1 – August 10. After August 10 anglers can still target red salmon on any of the regions rivers. Call us for an up to date fishing report or for more information on when you will find the peak fishing in our region.