Salmon Grove offers world-class fishing trips on the Klutina River, Gulkana River, Tonsina River, and Copper River.
Copper River Salmon Charters
GUIDED SPORT FISHING TRIPS
We guide professional-quality sport fishing trips on some of the best Alaska fishing rivers. Fish the Tonsina River, Klutina River, Gulkana River and Copper River with one of our top-level fishing guides. Grove's is the most experienced fishing guide services in the area. We are located in the heart of Alaska's Copper River Basin. The Upper Copper River region of Alaska is well-known for its massive run of wild Pacific salmon. The world-famous salmon of this region are prized for their firm texture and high-fat content. Join us to fish for the most coveted stock of wild pacific salmon in the state of Alaska. We target king (Chinook) salmon, red (sockeye) salmon, silver (coho) salmon, native rainbow trout, arctic greyling and dolly varden. Our fishing season runs May-September.
DIP NET TRANSPORT
Salmon Grove offers subsistence dipnet transportation for Alaska residents. Our dipnetting transportation access the "above the bridge" subsistence fishery on the Copper River in Copper Center, Alaska. Our drop-off service is for experienced Alaskan dip-netters. This stretch of the Copper River is the most remote and void of any crowds due to limited access. To participate in the "above the bridge" subsistence fishery users are required to obtain the Glennallen sub-district subsistence permit directly from ADF&G. Permits are available online at the Alaska Department of Fish and Game website. Our dip net season runs June- September.
Salmon Grove campground on the Klutina River is the perfect place for the self-guided angler to experience some of the best salmon fishing in Alaska. Avid and beginner fisherman alike will enjoy bank-fishing for Copper River red salmon right from the campground. During red salmon season when the Klutina River fish are running strong it is common for everyone in camp to catch a limit of reds. The walk-in fishing for red salmon from the bank will keep any serious sport-fisherman busy. We have large freezers, fillet tables and water available for you to process your fish. Our mission is to make it easy for everyone to access the river and provide a clean place for you to care for your catch.
WHITEWATER RAFTING & SCENIC RIVER TOURS
Salmon Grove offers scenic river trips for everyone who wishes to experience the wilderness of Alaska. Float the slow and gentle waters of the Gulkana River, enjoy whitewater rafting on the Klutina River or feel the force of the massive Copper River with our expert river guides. If your looking for a way to fully immerse yourself into the wild consider choosing one of our overnight or multi-day river rafting expeditions. Our river guides can provide a comprehensive natural history tour along the way. Let us customize your river trip to suit your itinerary, schedule and style. Our whitewater rafting and river float trips are suitable for all.
Join us for the real deal Alaskan fishing trip. Our guides specialize in freshwater salmon fishing on the tributaries to the Copper River.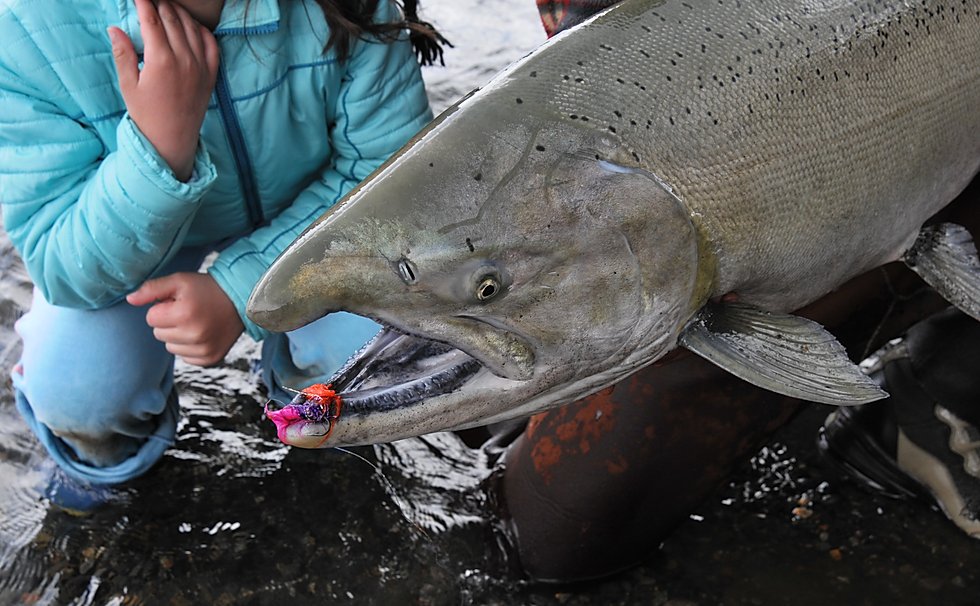 Full Day Salmon Fishing
9 hr | $350
Trips Depart Daily
Where we fish
Tonsina River
Klutina River
Gulkana River
Copper River
In addition to providing great salmon fishing the local rivers also offer anglers prime waters to fish for native rainbow trout, dolly varden, arctic greyling and whitefish. The Copper River region of Alaska offers excellent fly fishing opportunities in both lakes and rivers. King salmon season is open June 1 – August 10. After August 10 anglers can still target red salmon on any of the regions rivers. Call us for an up to date fishing report or for more information on when you will find the peak fishing in our region.